Posts Tagged 'style'
Tuesday, March 13th, 2012
One would not immediately think that this is a topic on which you'd need instruction. Seems pretty straightforward, right? Arm through arm-holes, head through neck-hole, proceed accordingly.
As it turns out, some of us could use a little advice on the topic. Do I go form fitting? Do I wear it cropped? Is neon yellow a good color for me? Ed Hardy; is he still cool?
In regards to the last questions, that's a giant "NO". The others? Not so clear-cut.
Show a little buff
Gentleman, it is absolutely the case that you should be proud of the work you've done in the gym. The grueling, tiresome, pain-inducing hours you've spent there should not be for naught. Some strategically chosen tees can assist you in the exhibition of your assets. Having said that, it needn't be painted on. Take our fine fellow Hugh, if you will:
If anyone could lay claim to the inability to find a shirt which could amply house ones biceps, it would be the Wolverine himself. You'll notice here though that Hugh has found the perfect amount of cotton to both show and not suffocate his fitness efforts. A nice, white, clean tee. Well done.
A little belly is still, a belly
With the re-emergence of the Crop Top(one never know how long exactly these things will stay) I feel it somewhat necessary to cover some brief yet valuable ground rules. The Crop Top continues to be everywhere this spring/summer and while you should absolutely consider this look for your wardrobe, remember that just because you can, doesn't always mean you should.
You can tastefully show off a little midsection without going all exhibitionist with some of these great tops. Do you have the naval for it? We'll leave that up to you, but remember that less is more. You can also pair these tops with some leggings, a skirt, or some great high-rise jeans. Get the cropped look without the exposed belly.
What do you think of these looks?
Graphic Tees; did they die out yet?
Au contraire, mon frère. Graphic tees are in fact now bigger and better (and sometimes badder) than ever. There is literally a graphic t-shirt out there with every celeb, athlete, train-wreck reality show star and hip-h0p mogul you can think of on it. Want a tee professing your love of large women? It's out there. Want one advertising the new hoops sensation Jeremy Lin? Done. How about one with your own picture on it? I know a guy who can get that by tomorrow.
Again, we're back to the "because I can, should I?" dilemma. Here is what I'll say; consider your age, your place of work, the day of the week, and your significant other. These all come into play. A graphic tee does indeed add a nice little bit of edge to an outfit. A little bit of attitude.
These and others are just a few bits of advice to take into consideration when styling a new, fashionable tee into your outfit.
Or of course as some seem to do, you could take all of this advice, do the opposite, and who knows…maybe start a worldwide trend.
I doubt it though.
Tags: crop top, how to wear, hugh jackman, style, t shirt, white tee
Posted in Uncategorized | No Comments »
Monday, February 6th, 2012
I'm sure this is not the only blog written on the inspirational qualities of Willy Wonka. I'm sure creativity, youthfulness, innocence and heavy drug use have all been considered (don't tell me there were not heavy doses of various hallucinogenics passed around during set + costume design).
Safely, we can probably assume that not many an article has referenced the fashion cues provided by one Gene Wilder in the lead role as Willy Wonka. However, I say we would be remiss to not consider the incredible creative inspiration provided by a movie like this.
So, the key  in situations where we use wildly imaginative and colorful examples as a template for something we seek to put our own spin on is to consider the time.  By "time" I mean "how does this stranslate" to the modern days I live in. Obviously this outfit shown from Willy Wonka would be a tad, how do I say, crazy to wear piece for piece.
What we want to do is pick and choose elements (colors, shapes, styles, combinations, etc.) that fit not only our personality and taste, but current trends.
We've chosen some pieces that stand out with some volume (the blazer), some staples that bring timeless elements (the saddle shoe and hat) to the outfit, and something light and complimentary and trendy in the scarf.
What do you think? How would you change this to fit your personal style?
Check out more insights like this and see our limited edition apparel at Faith & Fortune.
Tags: fashion, inspiration, style, willy wonka
Posted in Uncategorized | No Comments »
Wednesday, January 4th, 2012
This past shoot we had a blast with our stylist coming up with ways to incorporate fun, "real life" outfit choices for some of our product. Graphic apparel is funny in that some of us are all to happy to rock out a bold printed tee and have that be your statement piece, while others prefer that it take a backseat or "complimentary" role.
We thought we'd throw a polyvore set your way that plays with some of the images from our shoot and gives you some colorful and creative ideas. Remember; find a statement piece or two for your outfit and play the rest cool and straightforward lest you be labeled a fashion victim. Happy hunting.

Vintage jacket, $68
Forever 21 skinny leg jeans, $23
Forever 21 pointy toe boots, $33
Forever 21 stretch jewelry, $13
F&F winter campaign images
Tags: forever 21, graphic apparel, images, layering, skeleton, style, t shirt
Posted in Uncategorized | 1 Comment »
Friday, December 16th, 2011
Seriously. This women knows how to dress and be dressed. Stylist to the stars, you probably know her from her hit Bravo show The Rachel Zoe Project or The Zoe Report.
While Zoe isn't one to be tied down, F&F most appreciates her day-to-day casual style that can best be described as rocker-turned-bohemian-turned-independent woman. In fact,  Rachel even makes maternity look good for petes sake.
Rachel is adventurous and a fashion maven, but by no means outrageous. She knows how to add that bit of personal flair without ridiculousness. Take some cues from her…YOU can pull this off.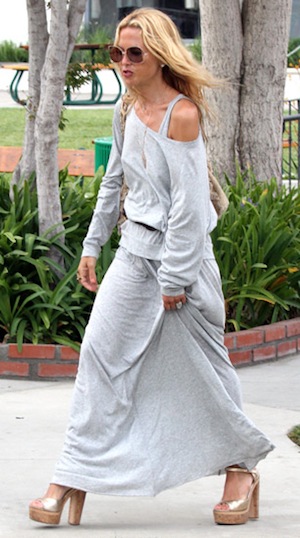 I'd say there is a fine line between looking casually stylish (with the bohemian look above) and looking like you are caught up in your parachute post-jump. Rachel knows (correction; owns) those limits.
We're pretty excited about some of our new product coming out this month and think much of it will layer quite nicely in some combinations like these above.
Stay tuned….
Tags: casual, fashion, moto jacket, rachel zoe, style
Posted in Uncategorized | No Comments »
Thursday, December 15th, 2011
I'm going to be up front from the get-go; you need to possess a serious amount of bad-assery to pull off some of what Ryan Gosling wears in this years hit flick Drive. He plays a stunt-driver who moonlights as a wheelman for some less than savory characters, and does so wearing a collection of clothing that you might otherwise look at and say, "nah". Instead, halfway through the film you find yourself thinking "could I….".
Part of why the styling in this film is so perfect for the character is it's "oh this? I found it under my bed" feel that it gives him. The character is so preoccupied with not dying and dating beautiful women that the clothing is given a very laid-back feeling, giving you the impression you could pull it off. The problem is, in the back of your mind you know it will only look too obviously like you are in fact trying. Thus, you are thrown into the circular dilemma of trying to not look like you're trying to wear clothing you did in fact try very hard to wear correctly. Tired yet?
While Ryan's Scorpion jacket isn't really advisable unless you are the front-man for a punk-rock band, a couple of his other casual looks are definitely doable for even the tamest of gentleman.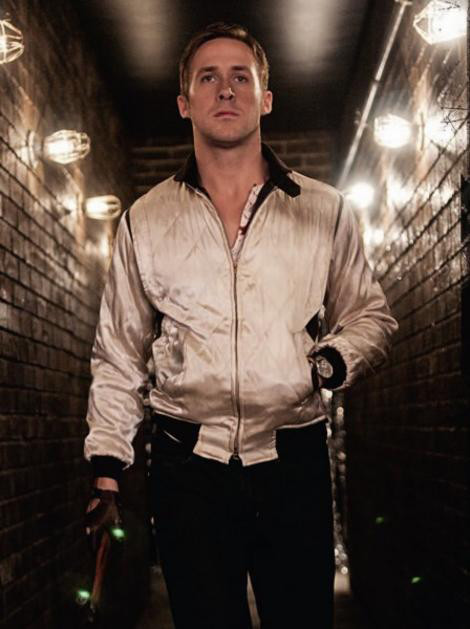 The Henley
This is the simplest of inventions that takes you from "gross guy mowing his lawn" to "wow. He even looks good taking out the trash". So long as you have a slight bit of tone to your body and don't try to pair this with pleated khakis (or khakis period), you're in the clear. This tee is pretty edgy yet not at all "out there". Thrown on some dark wash jeans and wear an unbuttoned flannel or a zip hoodie, and you're good to go.
Denim on Denim
I've gone over this before, but it bears repeating; Don't mix washes, wear a nicely fitted jacket, and you'll pull off the look. You're buddies still stuck in the fraternity sweatshirts with oil stains might look at you funny, but then again, it's not their looking at you we care about. Right?
So there you go. Two pretty cool-guy looks that really aren't all that extreme. No neon pants. No weird hats with feathers. No embroidered jeans. You can do this. I promise. And you don't even need to bash a guys head in while riding the elevator (spoiler alert).
Tags: cool, Drive, fashion, look, Ryan Gosling, style
Posted in Uncategorized | 1 Comment »
Wednesday, November 16th, 2011
Look, I'll cut you guys some slack in the summer. Baseball game? It's gotta be the local team on your cap. Golf course? I hate the visor, but I'll give it to you. The beach? Please by now tell me you've moved on to the fedora. How old are we?
Winter, we need to get a little more selective. Are you one of those guys rocking the giant Dr. Seuss candy-cane striped hat? Or how about the one with the giant pom on top. Really? Do I have to address this?
Having said that, we don't need to freak out quite yet. Developing discerning taste doesn't mean you need to abandon all sense of fun and wintry excitement. The key here is to find something functional and befitting your personality. Do you work in the North Pole? Or is your exposure to the elements limited to the 5 minutes you spend outside begging your girlfriends dog to pee? Certainly the plaid loggers hat isn't right if you are a wall street exec. Does that mean you need to eliminate anything that stands out? No. Take a few risks (just not with my money, got it?) and break up the power tie and power suit with a little ear-flapped number. Hey, you just might be mistaken for, I don't know, fun?

a mans dilemma; winter hats
You don't have to look the goof-ball part anymore (well, not so much)
Tags: hat, mature, mens, style, winter
Posted in Uncategorized | No Comments »
Monday, May 16th, 2011
The key in any styling choice is trying not to outsmart yourself (while looking like you're not trying). If you look in the mirror and have to convince yourself that yes, you look OK, you prob don't.
These decisions are not always clear cut, but you can certainly mitigate your risks.
Graphic t-shirts is one of the places where people have made this a lot harder than it has to be. Additionally, many would-be sartorialists have gotten into men's + women's heads, telling us that true style is way too "mature" for these popular artistic pallets. Puh-Sha. Obviously, being the co-founder of a graphic apparel brand I'm slightly biased. However, I also happen to love wearing graphic tees, so my intent here is dual in nature.
Now, it is possible to violate some rules of fashion when it comes to graphic t-shirts, especially when you start to head north of 30 years-old. Some examples; wearing size XXXL when you are clearly a size large, wearing size large when you are clearly an xxxl, and half-naked women on the front are just a few of the problems we commonly see. You'd do well to avoid these.
When it comes to a well fitting, appropriately designed graphic tee, you can't screw things up too much. However, there are a couple of things to keep in mind; if the shirt is really loud (huge graphics, bright colors, etc.) you would do well to tone down the rest of your choices for that day (muted tones, dark denim, solid color sweatshirt or cardigan layered on top) in order to balance things out. Conversely, if the shirt is more mellow and conservative in nature, go crazy with the other options (Red denim, a highly-patterned sweatshirt…go nuts!).
By and large, don't over-think the whole graphic tee thing; if you like it, wear it. Who cares what I say.
Tags: fashion, graphic tees, how to, style
Posted in Uncategorized | No Comments »
Thursday, May 12th, 2011
OK guys (and gals), we need your help; We're working our tails off to come up with an F&F original product for you guys this fall (you too ladies, but that's for another post).
We've been talking with designers and fabric sources to come up with something classic + timeless, but with our own special twist.
We've been mulling over some sketches and designs that are already out there, but rather than take this to the streets we decided we need your opinion. This is a big decision and production for us, and we need you to take this seriously…but no pressure. So take a look and tell us what you think (poll below pictures);
So, which do you prefer?
Tags: customer poll, fall, jacket, style
Posted in Uncategorized | No Comments »
Monday, April 11th, 2011
In the coming weeks (eek) we'll be unveiling our 2011 collection. While yes, it's seemingly taken forever to get to this point (it's never, ever, ever, ever, ever all smooth sailing), what that has done is give us time to consider what other parts of our wardrobe we will be needing to update as proper supplements for said collection. For the gentleman, one such piece is your footware.
Never to be taken lightly, we hope this is an element of your style which has never been neglected for too many seasons. You needn't replace your closets innards every few months, but a stylishly proper addition now and then is wise. Take hip-hop maven Pharrell for example;
Ignore the thumbs-up and the $35000 watch (or so we presume) and focus more on what you could pull off with style; his shoes.
"But those are SOOO green" you say. "I could never do COLORS".
Sigh. Stop being a sissy. Yes, even you can pull off color. Do it already.
Tags: boat shoes, footware, men, style, summer
Posted in Uncategorized | No Comments »
Friday, February 25th, 2011
Every now and then we come across those leading men that inspire us to dress a little nicer, maybe try some "looks" we wouldn't normally get within 100 feet of. Whether it's lack of an imagination or no stones, these personalities push us to think "you know, maybe I could pull that off". For us, Channing Tatum is one such man.
Oozing altogether coolness, every single freaking picture this guy is in has that "I can drive this motorcycle one handed at 150mph while shooting a bad guy on the way to the gym where I'll chest press 450lbs right before beating you 35-0 in one-on-one hoops (with his weak hand, no less) after which I'll drink you under the table at that hole in the wall bar where I'll also save your life from a Hell's Angels gang". Seriously. He's that cool.
One of the things that makes Channing's style so appealing and doable for others, is his mixing and matching of casual and classic pieces. He seamlessly combines a sweatshirt you'd wear to go change the oil, with a classic trench. Who is this freaking guy? Anyway, here are a couple of F&F pieces we can see Channing wearing. Hey, you never know, right?
Tags: channing tatum, fashion advice, style
Posted in Uncategorized | 6 Comments »
Pages

Archives

Blogroll

Other places to find us

Recent Posts