Posts Tagged 'fashion'
Sunday, April 29th, 2012
There are times we look back upon with a certain nostalgia. We feel a certain wistfulness for "what was", a sense of "those were the days".
Something tells me the days of 21 Jump Street (1987-1991) won't soon be one of those eras.
As I sat down to collect photos for this piece, I was struck with an overwhelming thought; Ew. Oftentimes when we look back upon some of the classic television shows or movies of past years we find something redeeming. Something that we can draw parallels with in contrast to today's culture. While the 70′s and 80′s often reemerge in predictable ways in modern fashion, we're left with more "what not to wear" moments than exciting reinterpretations when opening the fashion vaults of 21 Jump Street.
Now, the fact that these images are of Johnny Depp will distract many a viewer from the frightening reality that it looks as though Billy Idol and NKOTB were in a tragic science experiment gone wrong (similar to that of "The Fly"). The truth is, Depp could get away with wearing a trash bag and birkenstocks. Replace the face in these photos with that of your highschool PE teacher and you'll see what I mean. Quasi fashion becomes "did I really need to see that"?
In the true spirit of old fashion looks reinvented, here is one of our looks as inspired by the  ghosts of 21 Jump Street.
Tags: 21 jump street, fashion, johnny depp
Posted in Uncategorized | 5 Comments »
Monday, February 6th, 2012
I'm sure this is not the only blog written on the inspirational qualities of Willy Wonka. I'm sure creativity, youthfulness, innocence and heavy drug use have all been considered (don't tell me there were not heavy doses of various hallucinogenics passed around during set + costume design).
Safely, we can probably assume that not many an article has referenced the fashion cues provided by one Gene Wilder in the lead role as Willy Wonka. However, I say we would be remiss to not consider the incredible creative inspiration provided by a movie like this.
So, the key  in situations where we use wildly imaginative and colorful examples as a template for something we seek to put our own spin on is to consider the time.  By "time" I mean "how does this stranslate" to the modern days I live in. Obviously this outfit shown from Willy Wonka would be a tad, how do I say, crazy to wear piece for piece.
What we want to do is pick and choose elements (colors, shapes, styles, combinations, etc.) that fit not only our personality and taste, but current trends.
We've chosen some pieces that stand out with some volume (the blazer), some staples that bring timeless elements (the saddle shoe and hat) to the outfit, and something light and complimentary and trendy in the scarf.
What do you think? How would you change this to fit your personal style?
Check out more insights like this and see our limited edition apparel at Faith & Fortune.
Tags: fashion, inspiration, style, willy wonka
Posted in Uncategorized | No Comments »
Wednesday, February 1st, 2012
You either love football or hate it with the fire of a thousand suns. I'm convinced there is no halfway liking what takes place on the gridiron (no, it's not a place where waffles are made, silly).
I happen to be one of those crazed fans who can't get enough of the hoopla. There's pretty much 2 in-your-face weeks of jam-packed content to digest. If your team is playing (which mine is), it's a veritable utopia of sorts. If your team isn't playing, or if you can't stand sports in general, this is your personal "hell week".
Fret not though my friends; even if you're not a fan of 300lb men crushing one another there is plenty to celebrate fashion-wise. Below is a quick run down of some of this weekends biggest players (and I don't mean waistline) and how they choose to throw-down on the runway (i.e. the walk from the locker room to the post game interview podium).
Many athletes aren't exactly known for their sartorial skill so much as their 40-yard dash speed or vertical jump, but these guys and many others know how to spend their money when it comes to style. Give them credit; money doesn't always equal taste (see Ed Hardy).
Tags: eli manning, fashion, justin tuck, patriots, super bowl, tom brady, victor cruz
Posted in Uncategorized | No Comments »
Monday, January 23rd, 2012
We've all been there. It's the moment when you realize that no matter how ahead of the curve you think you might be, someone else is right on your tail. In fact, 1000 someone elses are right on your tail.
Lack of Originality

This goes back as far as 5th grade. I remember it vividly. Painfully.
I was strutting down the middle school hallways, jammin out to my yellow Sony Walkman. Sure, no one else could hear what I was rockin' in my headphones, but they were all about to get schooled in the ways of Vanilla Ice. That's right. Having successfully snuck the white-wonders album by my parents, I was a trendsetting fool.
Well actually, it turns out I was just a fool. What I didn't realize was that every wannabe white kid from my neck of the woods was rocking the same "ice ice baby" jam I was. My ego and sense of originality was deflated.

It's worse with fashion
With music it's pretty widely accepted that once a musician starts to gain a little popularity, usually the momentous growth towards VH1 stardom is inevitable. We can all accept to some degree that it's not reasonable to expect underground vitality forever.
When it comes to fashion, though, really nothing is a bigger bummer than walking down the street or into a party and coming face to face with someone who has THE SAME EXACT piece of clothing on that you do. Fashion is so much a display of individual taste that we feel a sense of personal violation when this happens.
How do we work around this? Simple.
Limited Edition Apparel Production
Yes, we print less than 75 of all of our shirts. Yes, we do this intentionally. While we do look forward to a day where demand raises production into the high triple digits, we always want Faith & Fortune to be know as a limited edition brand. Sure it's cool to say, but the reality is that we're all about originality. We want you to be able to truly rock some threads that no one else in your circle is going to be wearing.
Sometimes it's fun to be like everyone else (like when it comes to having a head, a digestive track, a working heart, etc.), but why not put a little distance between yourself and that weird kid at the shake-n-skate drive through if you can help it? Glad to be of service.

Does anyone stand out here?
Happy shopping
Tags: fashion, gap, graphic apparel, limited edition apparel, originality, sweatshirt, tees
Posted in Uncategorized | No Comments »
Monday, January 9th, 2012
People can and will debate artists levels of creative genius and the methods by which they perpetrate their message. Kanye's antics have certainly been scrutinized through the years, and rightly so. What is not up for debate, however, is the large impact he has had on both the music and fashion scene. Releasing hit after hit and sitting at the runways edge for high-profile fashion shows, Yeezy is a tastemaker that turns heads.
For today's style set, we've thrown together a look that we think Kanye would rock, complete with a previously unreleased (but soon to be released) F&F vneck tee, "Guns a Blazin". This look is a little more understated for someone who isn't quite ready to rock that super-trendy piece. If you are in fact one of those bold individuals, swap out any one of these pieces for a brighter, more colorful version (i.e. blue sneakers, a red jacket, multi-color scarf, etc.).
Alright fellas, have fun with this. You can't go wrong with a few fashion cues from Mr. West.
Tags: advice, dress, fashion, kanye west, polyvore set, style pics, suggestions
Posted in Uncategorized | 1 Comment »
Friday, December 16th, 2011
Seriously. This women knows how to dress and be dressed. Stylist to the stars, you probably know her from her hit Bravo show The Rachel Zoe Project or The Zoe Report.
While Zoe isn't one to be tied down, F&F most appreciates her day-to-day casual style that can best be described as rocker-turned-bohemian-turned-independent woman. In fact,  Rachel even makes maternity look good for petes sake.
Rachel is adventurous and a fashion maven, but by no means outrageous. She knows how to add that bit of personal flair without ridiculousness. Take some cues from her…YOU can pull this off.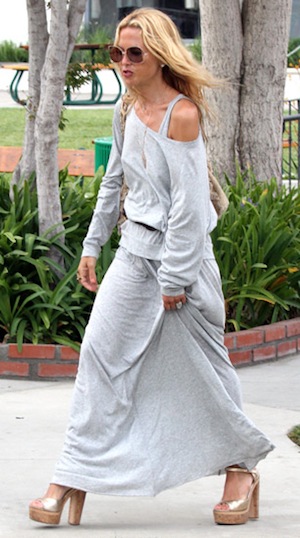 I'd say there is a fine line between looking casually stylish (with the bohemian look above) and looking like you are caught up in your parachute post-jump. Rachel knows (correction; owns) those limits.
We're pretty excited about some of our new product coming out this month and think much of it will layer quite nicely in some combinations like these above.
Stay tuned….
Tags: casual, fashion, moto jacket, rachel zoe, style
Posted in Uncategorized | No Comments »
Thursday, December 15th, 2011
I'm going to be up front from the get-go; you need to possess a serious amount of bad-assery to pull off some of what Ryan Gosling wears in this years hit flick Drive. He plays a stunt-driver who moonlights as a wheelman for some less than savory characters, and does so wearing a collection of clothing that you might otherwise look at and say, "nah". Instead, halfway through the film you find yourself thinking "could I….".
Part of why the styling in this film is so perfect for the character is it's "oh this? I found it under my bed" feel that it gives him. The character is so preoccupied with not dying and dating beautiful women that the clothing is given a very laid-back feeling, giving you the impression you could pull it off. The problem is, in the back of your mind you know it will only look too obviously like you are in fact trying. Thus, you are thrown into the circular dilemma of trying to not look like you're trying to wear clothing you did in fact try very hard to wear correctly. Tired yet?
While Ryan's Scorpion jacket isn't really advisable unless you are the front-man for a punk-rock band, a couple of his other casual looks are definitely doable for even the tamest of gentleman.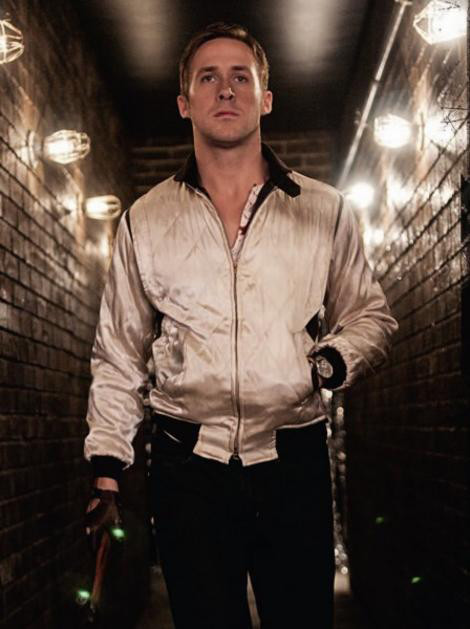 The Henley
This is the simplest of inventions that takes you from "gross guy mowing his lawn" to "wow. He even looks good taking out the trash". So long as you have a slight bit of tone to your body and don't try to pair this with pleated khakis (or khakis period), you're in the clear. This tee is pretty edgy yet not at all "out there". Thrown on some dark wash jeans and wear an unbuttoned flannel or a zip hoodie, and you're good to go.
Denim on Denim
I've gone over this before, but it bears repeating; Don't mix washes, wear a nicely fitted jacket, and you'll pull off the look. You're buddies still stuck in the fraternity sweatshirts with oil stains might look at you funny, but then again, it's not their looking at you we care about. Right?
So there you go. Two pretty cool-guy looks that really aren't all that extreme. No neon pants. No weird hats with feathers. No embroidered jeans. You can do this. I promise. And you don't even need to bash a guys head in while riding the elevator (spoiler alert).
Tags: cool, Drive, fashion, look, Ryan Gosling, style
Posted in Uncategorized | 1 Comment »
Monday, May 16th, 2011
The key in any styling choice is trying not to outsmart yourself (while looking like you're not trying). If you look in the mirror and have to convince yourself that yes, you look OK, you prob don't.
These decisions are not always clear cut, but you can certainly mitigate your risks.
Graphic t-shirts is one of the places where people have made this a lot harder than it has to be. Additionally, many would-be sartorialists have gotten into men's + women's heads, telling us that true style is way too "mature" for these popular artistic pallets. Puh-Sha. Obviously, being the co-founder of a graphic apparel brand I'm slightly biased. However, I also happen to love wearing graphic tees, so my intent here is dual in nature.
Now, it is possible to violate some rules of fashion when it comes to graphic t-shirts, especially when you start to head north of 30 years-old. Some examples; wearing size XXXL when you are clearly a size large, wearing size large when you are clearly an xxxl, and half-naked women on the front are just a few of the problems we commonly see. You'd do well to avoid these.
When it comes to a well fitting, appropriately designed graphic tee, you can't screw things up too much. However, there are a couple of things to keep in mind; if the shirt is really loud (huge graphics, bright colors, etc.) you would do well to tone down the rest of your choices for that day (muted tones, dark denim, solid color sweatshirt or cardigan layered on top) in order to balance things out. Conversely, if the shirt is more mellow and conservative in nature, go crazy with the other options (Red denim, a highly-patterned sweatshirt…go nuts!).
By and large, don't over-think the whole graphic tee thing; if you like it, wear it. Who cares what I say.
Tags: fashion, graphic tees, how to, style
Posted in Uncategorized | No Comments »
Wednesday, April 20th, 2011
Spring weather is pretty much HERE, and Summer is not far behind. Along those lines, Faith & Fortune 2011 release.
A loooong time coming we know, we're days away from our pre-sale which will put these fine threads into your beautiful hands. Some new hoodies for those cool nights and some fantastic tanks + tees for those
hot, fun-filled days. Come on, who's looking out for you?
Tags: benefit, f&f, fashion, new line, spring, summer, t-shirts
Posted in Uncategorized | No Comments »
Wednesday, March 2nd, 2011
Yes, it's getting to be that time of year where we're dreaming of wonderful things. Beaches, flip-flops, tans, and the clothing that goes along with these.
You know of what I speak. Dig deep within the snow-covered recesses of your memory. Push aside the flannel and wool that fills your minds-eye closet. They are called "t-shirts" and "pullovers" and "hoodies".  Go ahead; sound it out, we won't laugh.
This weather is right around the corner, closer than you may think or feel. That's why we've been hard at work prepping some new, colorful, and exciting pieces. T-shirts, button downs, a cardigan, and some hoodies you won't (but will have to) want to take off….ever. Here's a sneak peak of what's to come.
What do you think?
Tags: apparel, fashion, hoodies, spring, summer
Posted in Uncategorized | No Comments »
Pages

Archives

Blogroll

Other places to find us

Recent Posts