Archive for the 'Uncategorized' Category
Wednesday, January 11th, 2012
Hoodies & sweatshirts; they get no respect. There was once a time when I would create an entire outfit surrounding a specific sweatshirt that I wanted everyone to see. More recently I've used my sweatshirts as layers that I can throw on last minute if I feel like it's chilly outside. In some cases I've even used sweatshirts to replace jackets. What is happening here?
In general I feel like the sweatshirt has been devalued. They're not even given a second thought. I've noticed that some of my friends would carefully pick out a really nice outfit head-to-toe but then ruin the whole thing by flinging a heather grey sweatshirt on top just so that they "wouldn't be cold". No thought being given to it at all.
The problem is that no one buys a sweatshirt for it's style, but for function. Sweatshirts (or "hoodies" for you cool kids) have so much potential to enhance your wardrobe aside from just being something that's comfortable and warm. Design-wise the sweatshirt is the perfect canvas.
Sweatshirts have to be given their credit again and to do this they need to be given more thought if you (myself included) are considering wearing one. The best way to incorporate sweatshirts into an outfit can be summed up in one word: LAYER. Seriously, sweatshirts and layering go hand in hand. While anyone can layer, if you want to look more put together and presentable rather than casual or sloppy then you have to layer right.
A Layering Tutorial
Some suggestions I have to help layer right are pairing a nice sweatshirt with a more tailored item like a blazer. There are a couple of guidelines here though. Wearing a crew neck sweatshirt underneath a blazer with a nice pair of denim is a great look. As long as the crew neck sweatshirt is not too thick, there shouldn't be any discomfort. I've experienced this discomfort before and it comes from over layering or not layering properly (Won't be making that mistake again!). Rule of thumb: the lighter layer goes underneath.
Style your hoodie right
Another way to style a sweatshirt to make it look more polished is by pairing it with a nice fitting button down shirt and a tie or bow tie. This may sound weird but trust me, this look goes well with both the hooded and crew neck sweatshirts. Throw on a jean jacket or a pea coat and a nice pair of pants and you're good to go.
Not only can wear your sweatshirts to lounge about or go to a ball game, but you can even get away with wearing them to work. Faith & Fortune's new sweatshirts for guys are perfect for trying out these styling suggestions and enhancing your closet. The designs are clean and sophisticated, appealing to many. They're not too thick so you can comfortably layer them under your blazers or jackets(i.e. you won't look like the Michelin man) and they're CRAZY soft.
So what are you waiting for?
~Jeb
Nate Perkins currently studies Communciation Arts at Gordon College. In his spare time you can catch him putting together looks for his peeps on Polyvore, hopelessly window shopping online, and NAPPING. His real name is Nate, but more commonly goes by 'Jeb', a name his best friend changed his name to in her phone so that her mom and aunt wouldn't call him. No one expected the name to stick but it did. He's now convinced that no one knows that his real name isn't Jeb.
Tags: casual, dressy, fleece, hoodies, layering, nice, soft, style a sweatshirt
Posted in Uncategorized | No Comments »
Monday, January 9th, 2012
People can and will debate artists levels of creative genius and the methods by which they perpetrate their message. Kanye's antics have certainly been scrutinized through the years, and rightly so. What is not up for debate, however, is the large impact he has had on both the music and fashion scene. Releasing hit after hit and sitting at the runways edge for high-profile fashion shows, Yeezy is a tastemaker that turns heads.
For today's style set, we've thrown together a look that we think Kanye would rock, complete with a previously unreleased (but soon to be released) F&F vneck tee, "Guns a Blazin". This look is a little more understated for someone who isn't quite ready to rock that super-trendy piece. If you are in fact one of those bold individuals, swap out any one of these pieces for a brighter, more colorful version (i.e. blue sneakers, a red jacket, multi-color scarf, etc.).
Alright fellas, have fun with this. You can't go wrong with a few fashion cues from Mr. West.
Tags: advice, dress, fashion, kanye west, polyvore set, style pics, suggestions
Posted in Uncategorized | No Comments »
Wednesday, January 4th, 2012
This past shoot we had a blast with our stylist coming up with ways to incorporate fun, "real life" outfit choices for some of our product. Graphic apparel is funny in that some of us are all to happy to rock out a bold printed tee and have that be your statement piece, while others prefer that it take a backseat or "complimentary" role.
We thought we'd throw a polyvore set your way that plays with some of the images from our shoot and gives you some colorful and creative ideas. Remember; find a statement piece or two for your outfit and play the rest cool and straightforward lest you be labeled a fashion victim. Happy hunting.

Vintage jacket, $68
Forever 21 skinny leg jeans, $23
Forever 21 pointy toe boots, $33
Forever 21 stretch jewelry, $13
F&F winter campaign images
Tags: forever 21, graphic apparel, images, layering, skeleton, style, t shirt
Posted in Uncategorized | 1 Comment »
Tuesday, January 3rd, 2012
The authoritative Wikipedia defines Social Consciousness as "consciousness shared within a society. It can also be defined as social awareness; to be aware of the problems that different societies and communities face on a day-to-day basis; to be conscious of the difficulties and hardships of society".
Through the years it would appear that by and large there have been two types of brands; for-profit and not-for-profit. You were either a greedy, blood-sucking capitalist or a Birkenstock wearing, child-sponsoring philanthropist. However, over the years though there has been a drastic shift in our culture where brands have been motivated-no, forced into being a blend of the two. I say "forced" because where it used to be the forward-thinking thing to do, companies recognize you'll quickly grow irrelevant if you shun the concept of giving back. This is in no way a bad thing. Essentially, consumers are holding brands accountable and saying "we'll give you our money, but we expect you to be a part of this community you so freely benefit from".
Operating a brand built on the concept of inseparably blending for-profit and non-profit concepts, I am sensitive to the challenges this endeavor presents. While "community donations" can be just another line-item for major corporations or even long-established businesses, brands like Faith & Fortune are faced with the dilemma of nurturing a sensitive bottom-line while passionately pursuing opportunities to prove an ethos (ours at heart being "look good, do good"). How does this play out in the scales of investment? Where do consumers expect, or more importantly, want their hard earned dollars to go? Is it towards building the business that one day will be this powerful influence? Or does the influence need to be fully pursued from the get-go regardless of "needs"?
Wikipedia also states that "Consciousness brings moral implications. Often, people with an awakened consciousness become socially active".
So the question becomes, what to you defines true socially conscious activity? How does that show itself?
I'd love to hear your thoughts in the comments section.
Tags: brands, business, ethos, operations, social, socially conscious
Posted in Uncategorized | No Comments »
Friday, December 30th, 2011
So here we are. Another "end of year" requiem. An encapsulation of an entire years worth of events and happenings  summarized in a matter of paragraphs. Where to begin? What do we cover? In the moment we'd say each days effort is a very important piece of the whole. No one greater, no one insignificant. Less fun? Maybe. More time consuming? It happens.
In the interest of expediency and time well-spent, I've chosen a few moments from this past year that I feel summarize what we continually pursue as a "whole" here at F&F; no single event defines us, but rather weaves the Faith & Fortune story.
What do you think? Do these ring true with what you see as the F&F "brand"?
1. F&F Meets with NYC artist Deno Angelopoulos
We love what you artists do. The vision, the individual expression that sets you apart from your colleagues; this always deserves a spotlight. Weather it's paint, music, clay, fabric….whatever. We love the expertise and the fascination it brings others.
2. We released "The Bard"
You'll notice our design themes range at times. We have a consistent pursuit of quality, but a diversity in depth and meaning. Dancing skeletons, geometric shapes, a guitar layered upon a lion; it's all pretty different. Every now and then though some of our designs have a head-turning "what is that??" element. Artist Grant Hanna applied his creative interpretation to Shakespeare, AKA "The Bard" when he turned him into a rock & roll version of himself for our rock-themed collection.
3. F&F hits The Governors Ball
Multiple stages, numerous musical acts, 20,000 sweaty and dancing fans; it was awesome.
We'll all readily admit the power of music and it's influence over our state of mind. Throw in a group celebration with a little too much Magic Hat beer, and you have some interesting images of dancing that you just can't get out of your head.
4.F&F fundraiser party for So We Run
At the crux of it all has always been our unwavering desire to operate within a framework of social support. The support that inspires our fans to unify cooperatively to help others, or to do their own act of good within their own "world". We're not a major corporation with deep pockets that can shower gifts on the needy. We are however, a brand with a plan. Our plan is that through partnerships and small, mutual acts of kindness, we will be participants in a greater community of caring brands and people. This was the drive behind the event for So We Run and our effort to build up those who do good, while having a damn good time doing it.
Make a video of your own at Animoto.
5 New Product Release
This could go first, but we're confident enough in the progress and the growth of our designs that we can put this at the end. With each and every release of an individual piece or a "collection", we grow increasingly excited at our development as an apparel brand. New designs, a broad range of colors, and the planning and development of new custom product (working on a shawl-neck cardigan at the moment!) takes us closer to our ultimate goal of being a multi-product apparel brand. In addition, we've opened several new retail locations and will continue to do so in the coming months. Have you tried any of our product yet? If so, what is your feedback? If not, maybe it's time?!?
There it is.  While we're proud of 2011 and all that it brought, 2012 is sure to be even grander. We have some cool goals and product ideas lined up that we're eager to share with you, and hope you'll stick around to check them out.
Thanks for being here in 2011, and we can't wait to share 2012 with you-
Sincerely,
Jason
Posted in Uncategorized | No Comments »
Monday, December 19th, 2011
Fashion is all about personality. There are many articles of clothing that are legit on their own, but in order for them to reach their full potential an individual must infuse their own personality into them. Personality in an outfit is best expressed through the way the outfit is styled. There are so many options to choose from that can be used to style up specific pieces in your wardrobe. Here is where I get a little baffled though. With all these different options to choose from why is it that so many people end up dressing alike?
I understand that there are certain trends people love to follow. Trends give a person a sense of "keeping up" with fashion. But, even with trends there is room still for personality and style. Without personality we are left being clones of each other only listening to and doing whatever fashion is telling us. In order to prevent this cloning from continuing I'd suggest wearing things not because they've been worn by a lot of different people but instead wearing clothing that expresses individuality. It may be hard to think that trends can possess individuality but they can!
For instance take the latest women's trend of red skinny jeans. With their increased popularity I've been seeing girls of all ages wearing them. I think a nice pair of red skinny jeans is a good staple to add to a wardrobe but I wouldn't suggest getting a pair of skinny jeans and wearing them just so that you can be "hip". If you do venture into the arena of red skinny jeans first, of make sure they are the right fit for your body. Once you have found the right fit for yourself pair them with things in your closet that will not only show off the jean but also express your personal style.
For the fellas, one trend that I have seen a lot of lately is bow ties. For awhile people considered bow ties to be nerdy, but now everyone and their mamma is sporting a bow tie regardless of the occasion. At times, a bow tie can make someone come across as trying too hard. Done right though these nifty neck accessories can really step up your outfit. Just like the red skinny jeans, bow ties can be a great part of different style.
I encourage anyone out there to really try harder when it comes to personal style. Clothes are so much more than just pieces of fabric sown together in order to cover and warm us. They help us to express our individuality, which is the one of the most precious things to each and every person.
~Jeb
Nate Perkins currently studies Communciation Arts at Gordon College. In his spare time you can catch him putting together looks for his peeps on Polyvore, hopelessly window shopping online, and NAPPING. His real name is Nate, but more commonly goes by 'Jeb', a name his best friend changed his name to in her phone so that her mom and aunt wouldn't call him. No one expected the name to stick but it did. He's now convinced that no one knows that his real name isn't Jeb.
Tags: personal style, red, rock n roll, Skinny Jeans, trends
Posted in Uncategorized | No Comments »
Friday, December 16th, 2011
Seriously. This women knows how to dress and be dressed. Stylist to the stars, you probably know her from her hit Bravo show The Rachel Zoe Project or The Zoe Report.
While Zoe isn't one to be tied down, F&F most appreciates her day-to-day casual style that can best be described as rocker-turned-bohemian-turned-independent woman. In fact,  Rachel even makes maternity look good for petes sake.
Rachel is adventurous and a fashion maven, but by no means outrageous. She knows how to add that bit of personal flair without ridiculousness. Take some cues from her…YOU can pull this off.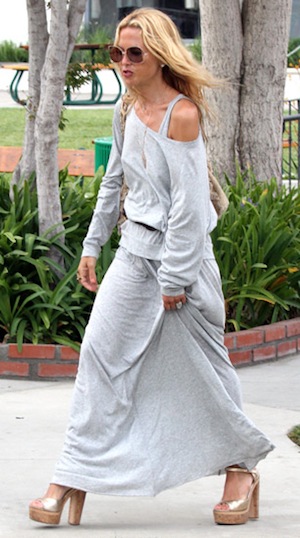 I'd say there is a fine line between looking casually stylish (with the bohemian look above) and looking like you are caught up in your parachute post-jump. Rachel knows (correction; owns) those limits.
We're pretty excited about some of our new product coming out this month and think much of it will layer quite nicely in some combinations like these above.
Stay tuned….
Tags: casual, fashion, moto jacket, rachel zoe, style
Posted in Uncategorized | No Comments »
Thursday, December 15th, 2011
I'm going to be up front from the get-go; you need to possess a serious amount of bad-assery to pull off some of what Ryan Gosling wears in this years hit flick Drive. He plays a stunt-driver who moonlights as a wheelman for some less than savory characters, and does so wearing a collection of clothing that you might otherwise look at and say, "nah". Instead, halfway through the film you find yourself thinking "could I….".
Part of why the styling in this film is so perfect for the character is it's "oh this? I found it under my bed" feel that it gives him. The character is so preoccupied with not dying and dating beautiful women that the clothing is given a very laid-back feeling, giving you the impression you could pull it off. The problem is, in the back of your mind you know it will only look too obviously like you are in fact trying. Thus, you are thrown into the circular dilemma of trying to not look like you're trying to wear clothing you did in fact try very hard to wear correctly. Tired yet?
While Ryan's Scorpion jacket isn't really advisable unless you are the front-man for a punk-rock band, a couple of his other casual looks are definitely doable for even the tamest of gentleman.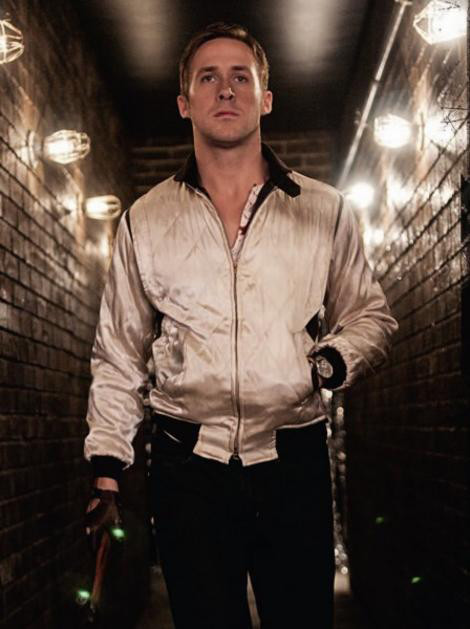 The Henley
This is the simplest of inventions that takes you from "gross guy mowing his lawn" to "wow. He even looks good taking out the trash". So long as you have a slight bit of tone to your body and don't try to pair this with pleated khakis (or khakis period), you're in the clear. This tee is pretty edgy yet not at all "out there". Thrown on some dark wash jeans and wear an unbuttoned flannel or a zip hoodie, and you're good to go.
Denim on Denim
I've gone over this before, but it bears repeating; Don't mix washes, wear a nicely fitted jacket, and you'll pull off the look. You're buddies still stuck in the fraternity sweatshirts with oil stains might look at you funny, but then again, it's not their looking at you we care about. Right?
So there you go. Two pretty cool-guy looks that really aren't all that extreme. No neon pants. No weird hats with feathers. No embroidered jeans. You can do this. I promise. And you don't even need to bash a guys head in while riding the elevator (spoiler alert).
Tags: cool, Drive, fashion, look, Ryan Gosling, style
Posted in Uncategorized | 1 Comment »
Thursday, December 8th, 2011
Sigh. THAT was a lot of work.
While we've certainly had more moving parts and potentially hazardous issues in past shoots, for whatever reason this one seemed to take forever to get here. Maybe it was the 5 reschedules we put our photographer through. Perhaps it was the last-minute apparel adjustments. Maybe, just maybe, it was the models dropping out last minute due to schedule conflicts.
All those things aside, this shoot was a rousing success that truly showcased the talents of the team involved. From the photographer, to the stylist, to the first-time models (we'll leave it a mystery for you to solve which ones) we couldn't be happier.
This shoot was a little different in that we wanted to show our fans and new followers some ideas as to how we see F&F fitting into your wardrobe. While we think the options are many, the idea is to help you visualize how F&F might naturally transition into your closet. Many of the piece have stand-alone potential, but also play well with others. See some of the early preview images below, with most to come next week.
Enjoy!
Tags: 2011, apparel, casual, faith, fortune, socially conscious, winter fashion
Posted in Uncategorized | No Comments »
Thursday, December 1st, 2011
For Christmas music, snowy weather, and really, really awesome sweaters.
Tags: christmas, hall and oates, jingle bell rock, sweater
Posted in Uncategorized | No Comments »
Pages

Archives

Blogroll

Other places to find us

Recent Posts